Emery Chemicals was started in the 1960's by Stephen Emery in a small office and factory in St. Peters, Sydney. It was here that the original Emer-Clad product was manufactured, in addition to numerous other coatings including MIO metal coatings which were used to coat the Sydney Harbour Bridge.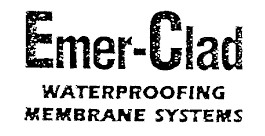 Emery Chemicals soon expanded into other products and began importing the Vandex and Index waterproofing ranges.
When Stephen Emery retired, his sons Julian and Tony took over the business, opening another factory in the Gold Coast, Queensland. They started producing the Toby range of polyurethane floor finishes which were later bought by DuluxGroup.
Following on from this, Parbury (Alesco) purchased the Emery business just prior to the purchase of Fosroc Australia, and the two businesses were merged into Parbury Technologies, later renamed Parchem Construction Supplies.
A range of Emery products were re-launched under the Emer brand. This included the high performance, locally developed, waterproofing and sealant products.
Alesco was purchased by DuluxGroup in 2012 and DuluxGroup continues to invest in the Emer brand today ensuring that it continues its proud heritage of protecting Australia's buildings.