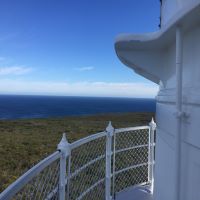 THE PROJECT
Constructed in 1903, this working lighthouse received significant concrete repairs and a full repaint. Close-up views of the heritage facade are part of the visitor experience, for those who climb the 59 steps to the lighthouse balcony. A highly protective coating solution was required to keep the upper facade looking good for years to come. Accommodating movement and weather protection were key requirements. 
THE SOLUTION
A range of Fosroc and other Dulux Construction Solutions products were used in the concrete repair and repaint executed by Marine & Civil Maintenance.
Step 1: All damaged concrete was broken out.
Step 2: All exposed steel reinforcement was primed with Fosroc Nitoprime Zinrich to actively resist corrosion.
Step 3: Fosroc Renderoc LA55 was used for deep section patch repairs while Fosroc Renderoc HB40 was used for vertical and overhead repairs.
Step 4: The Fosroc Nitofill LV injection system was used to repair cracked concrete that did not require breaking out.
Step 5: The balcony walkway received a Nitoprime and Nitoproof waterproofing system that delivered Class P5 slip resistance.
Step 6: Emer-Clad Facade was used to waterproof and protect the facade surrounding the lighthouse beacon.
Step 7: Dulux Protective Coatings Durebild STE and Weathermax HBR were used to repaint the entire lighthouse.
THE BENEFITS
The Emer-Clad Facade system is a single component water based, high solids, acrylic copolymer membrane coating.
Highly flexible - accommodates movement of pre-existing cracks of up to 1mm.
Excellent resistance to mould and mildew.
Excellent resistance to embrittlement.
Excellent resistance to UV, weathering, chloride ions and carbon dioxide.
Suitable for horizontal and vertical surfaces.
Available in matt and satin finish in six colours. It can also be tinted to any colour.
Can be applied to a wide range of substrates.
One component - readily applied direct from pail.
Low VOC level - 55.3 grams per litre.